Summer is fast approaching, (yesterday was 80 degrees in Downey CA) and our air conditioning doesn't work.
So typical.
What I hate most about being a working gal is summer. It should really be against the law to work on nice warm days. Personally, I think we should work on days that are gloomy or rainy even if that means working on a weekend. Let me out into the sun and enjoy the rays!
Today I'll day dream about laying on the beach, soaking up the sun. It's usually my luck that the nice weather doesn't last until the weekend, but let's hope it does!
With my daydreaming plans in mind, I'd like to share with you Tuesday's Treasury. My treasury this week is inspired by Holie B a swimsuit designer from Mexico. I first discovered Holie B while day dreaming about the golden tan I could have if a paycheck didn't motivate me to stay in doors. Her style is fantastic and her story is inspiring.
Meet Holie B!

Where are you from, what do you do, what makes you unique?
I'm a Mexican fashion designer. born in Guadalajara, Jalisco. I love to surf and skate on my long board. I design cool swimwear for women. One and a half years ago, I moved to Shanghai to do a masters in Fashion Business and decided to stay here to open and analyze a new market. I define myself as a very positive happy and active person. I love to learn new stuff and meet new people. Of course one of my other passions is to travel and get inspired by different cultures, flora and fauna.
When did you first discover etsy?
The first time I heard from esty was because a friend told me some other designers have been selling through this site and they where selling all around the world. That same day, I came home and looked for the page. I loved it. So I decided to tray it and started uploading the pictures and in the first week, I sold a bikini in Paris.
Apart from creating things, what do you do?
I love to surf, but in Shanghai is a bit hard to do that often. So, I ride my long board and dance. I also like to walk around the city, visit new places and meet with cool people.

Is Etsy your full time or part time business?
Etsy is a platform for my sales, but Holie B is my full time job. We are a team of almost 5 people already and we want to make the brand grow and start producing more to be able to sell to boutiques and bigger stores.
What other avenues, if any do you share your work with the world?
We are starting a shop in ASOS on may 11th. We also have our own website.
Facebook: facebook.com/HolieB
Facebook.com/HolieBswimwear
What steps do you take in your creative process?
I pick a topic based on tinks I´ve been amazed of, do a deeper research on it and start to draw my designs then, I create the patterns. Source fabric, make the sample and fit it. Then, put it on etsy and sell it.
What is your favorite item in your shop and why?
It´s a very simple and elegant and has a very nice fit.
Where does your inspiration come from?
Everywhere! From everyday life. Is just a matter to keep your eyes open to the nice things that life puts in front of you.
What is your favorite part of being a part of the Etsy community?
I like the kind of costumers Etsy targets. I really like that the etsy community supports independent designers and are always looking for original and unconventional stuff.
Who or what has been most influential in being where you are today?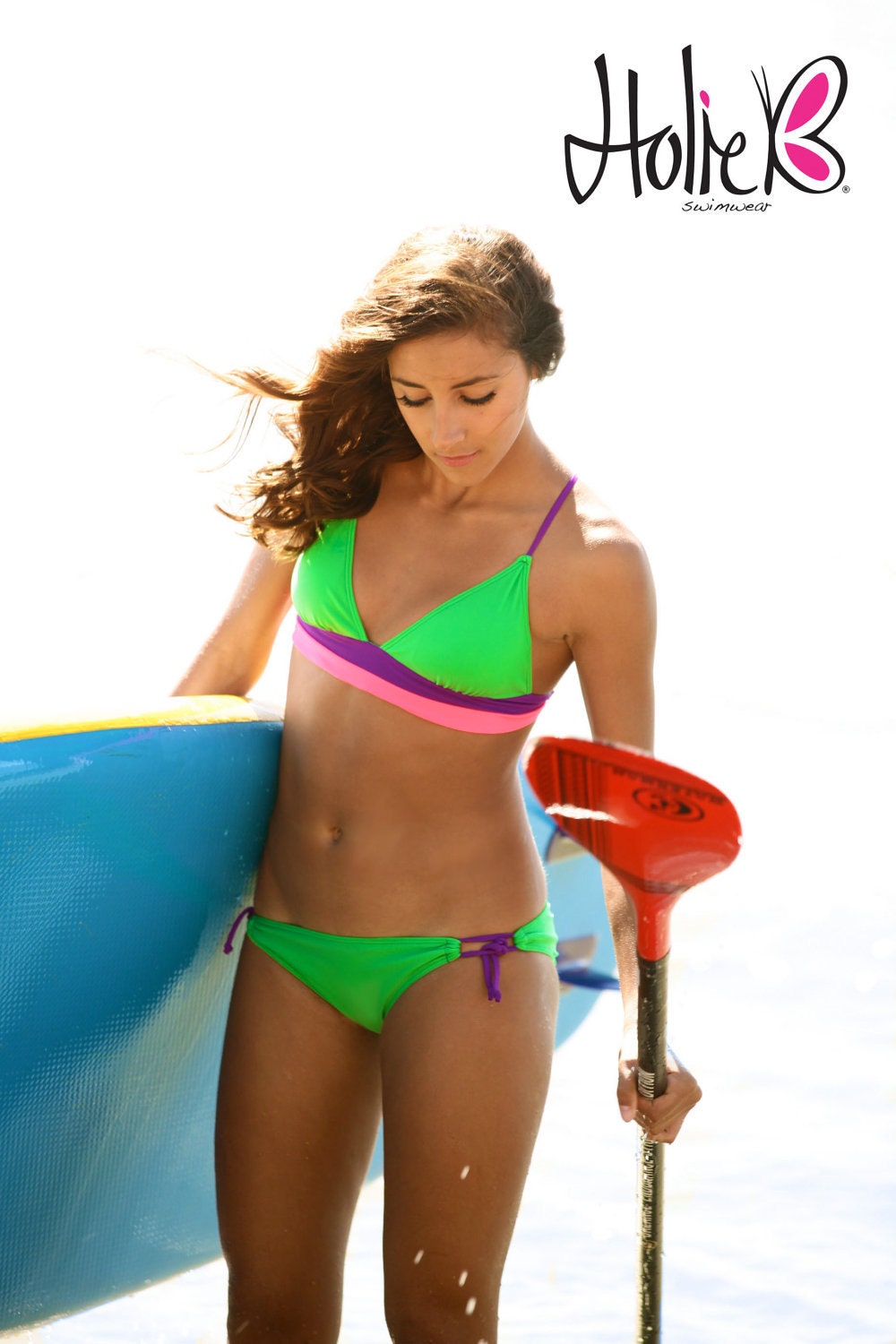 All the people that surrounds me. Starting from my family, parents and siblings. My husband and friends, everybody puts a stone for the wall I´m bulding that is myself and my brand.
When did you know you were an artist/maker?
Since I was a little child I always went with my mom to buy fabric for her and always chose something for me. Since then I started designing my own clothes. She knows how to sew and she made a lot of clothes for myself. Then Iearned to saw too and decided to study fashion.
How do you get out of your creative ruts?
I think that whatever I do, I never get out of it. I just change the way. But even when I´m surfing or long boarding, I´m designing in my head all the time.
Where would you like to be in ten years?
Everywhere! I would love to sell in the most hidden corners of the world!
If you could share one tip with a new Etsy seller, what is the most important thing to learn and why?
The tip that I always give is to be yourself. People and specially people on Etsy is looking for authentic stuff. Don't feel any pressure from other brands. Trust in you and your taste. Be in constant communication with your costumers and offer a good service and quality.

Special Offer!
Holie B will give a special present (which includes a special bag to store the swimsuit and cool stickers) to the first 5 people that buy an item on Holie B etsy page. You just need to put in the comments that you found Holie B on Window by the Sea!