I am slightly astonished by how much it costs to make something beautiful. I am not just talking about time (because artists put in more hours than anyone realizes) but supply costs!
I wouldn't consider myself an artist. I like to think I am more of a crafter. (labeling myself as an artist feels like a lot of pressure!) Now, I am trying my hand at crafty baking? (is there such a thing?
A friend of mine is having a birthday party for her 4 year old. For those of you who follow my pinterest, Mia's princess birthday party has been on my mind for months! Mainly, because she continues to remind me about it. I just love this age!
I am trying with all my might to recreate this cupcake for her party
I enjoy baking and thought this project would be a piece of cake (excuse my lame jokes!) but as I continue to look for supplies, I find myself thinking I must be going over the top on this project! But nothing is too expensive or elaborate for my little Princess Mia. After all, she only turns 4 once, right?
I am sure a real artist would have no problem coming up with something as simple as a cupcake design. That's why I want you to meet Vanessa, my new Etsy friend and extremely talented artist who would probably shame me if ever we had a cupcake decorating contest. (yes you have to use real frosting ! No fair painting it on!)
Where are you from, what do you do?
I'm originally from Chicago, IL... born and raised in the city. I fell in love with art in my teen years, and made it my ambition to go to art school & become an artist. So, I went to SMFA in Boston... received a BFA in drawing, painting, papermaking & bookmaking (I know, it's a lot... but oh so worth it). After that, I moved to NYC with Anthony (my boyfriend and co-shop owner), where we now live & work. I love to just make stuff... I watched an interview Chuck Close did with Charlie Rose, and Close said, "inspiration is for amateurs." I find this to be a good motto to work by... life is too short to wait around for the right moment; the right moment is now.
Nicely said!
When did you first discover etsy? What made you decide to start a shop?
I discovered etsy in 2008, when my old roommate and I were planning to open an etsy shop together... but that fell through. I talked about opening an etsy store for the longest time, but I would always make the excuse of not having enough time or money (what else is new, right?). About a month ago, I decided enough talk... time to do, and made the leap. It's a steep learning curve, and every day I'm learning something new from the community, through research and through hard work. It has been worth every minute though, and I hope to stay open for a long time to come.
Apart from creating things, what do you do?
Two day jobs... Starbucks in the AM, the other, part time college librarian. I half joke when I tell people I've taken on a third job with my etsy store :)
wow! I'll stop complaining now! ;)
Is Etsy your full time or part time business?
Like most etsy shop owners, I dream of quitting my day job! If I can't quit both, I would love to be able to quit at least one.
What other avenues, if any do you share your work with the world?
I have a website:
www.resetreality.net
, which I named my etsy shop after. I came up with the name resetreality as a young, ambitious 16 year old who loved surrealism, had a few frustrations with the world, and had a really good "a-ha!" moment. I recently began a pinterest page (
pinterest.com/resetreality
) as well, and love the platform to promote other etsy artists & interesting things I find on the web. Anthony, my partner in my shop, also has a website with more of his work on it:
www.shoofish.com
.
What steps do you take in your creative process?
I spend a lot of time reading, doodling and daydreaming... all essentials of any creative process. When I actually sit down to paint, I allow myself to become cautiously reactionary... how carefully I respond to how the paint moves on the paper, or how carefully I fold a piece of paper when I make books... it eventually leads to the quality of the final product. My medium of choice, watercolor & ink, especially leaves little room for "mistakes..." but happy accidents do happen. I'll go through quite a few "awesome rejects" before I paint something I find myself excited about. I accept that as part of the process.
What is your favorite item in your shop and why?
I believe my paintings work best in pairs, especially when other people create the pairing... I love seeing what people come up with (and the story or inspiration behind their choices; usually it reflects their personality). These two paintings make a nice pair, sort of like the mermaid meeting the magician who will help her find the prince: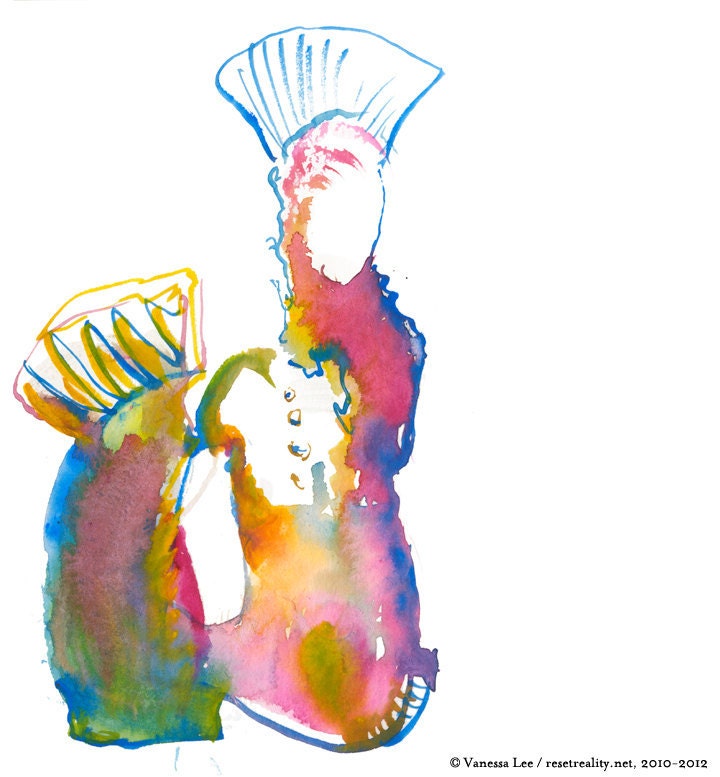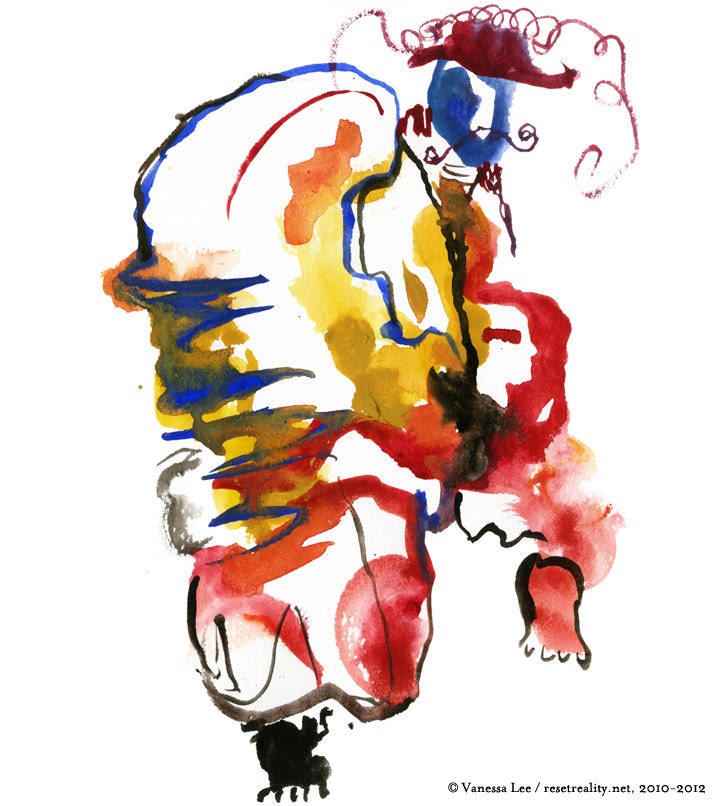 Where does your inspiration come from?
I draw from a lot of things... mostly mundane, occasionally epic. What I call the "venerable dustbin of many moments before this one" sparkles with gems I overlook time and time again. These are the tools that shape my work. I draw from familiar icons, metaphors and mythology to help navigate through the fog of insecurity. It grabs the language of vision and weaves a moment of clarity in which we can objectively see our selves not as "others" but as "people."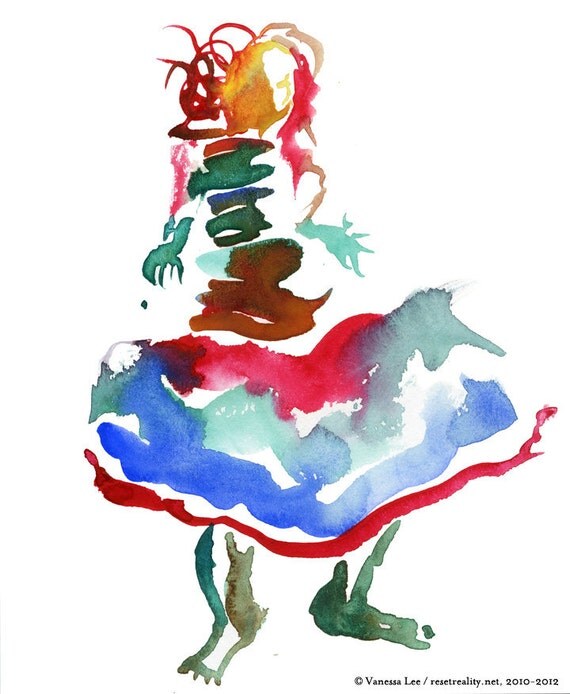 What is your favorite part of being a part of the Etsy community?
Everyone supports each other on Etsy, which I find refreshing from the grind of the art world. Also, the amount of talent on etsy is ridiculous, but it amazes me every time I see a breathtaking shop.
Who or what has been most influential in being where you are today?
Anthony has helped me through thick and thin. I also owe a lot to my teachers, past and present, and my younger sister who's always cheered for me from the beginning... without the support from these people, I would definitely not be where I am today.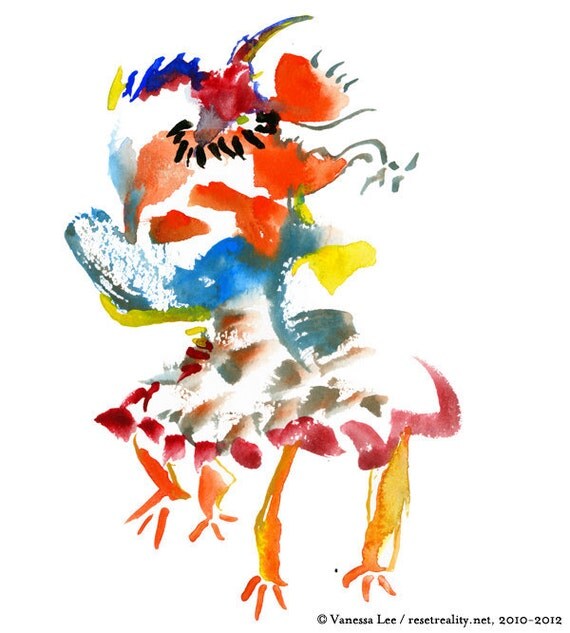 How do you get out of your creative ruts?
"In order to be creative, you have to know how to prepare to be creative," says Twyla Tharp in her amazing book, "The Creative Habit." It's a great read for any artist... and I find myself flipping through it often to find exercises to refresh my creative mind. Being creative is an exercise of the mind, coupled with some knowledge of how to use materials and a little bit of skill with your hands. The more I exercise my creativity, the better the work becomes... which probably explains why the first few paintings or drawings usually look like shit. That's normal, everyone... don't panic!


Where would you like to be in ten years?
Ten years sounds too far ahead for me to imagine... but the big goal is to be debt free! No more student loans, no more credit card debt, no debt of any sort! For me, that's the key to my future success... especially with my art and my etsy store. Anthony would love to own a boat and sail around the world... but I haven't quite found my sea legs yet.
If you could share one tip with a new Etsy seller, what is the most important thing to learn and why?
Join a whole lot of teams, do a whole lot of research, watch as many Etsy Success videos as you can, learn from your peers, ship internationally (it's a lot cheaper than you think it is for most things, especially if your items don't weight a lot!). But above all, be open to criticism and stay optimistic. Everyone thinks, oh, my sales will just rain in magically once I put my items up online... that's a myth. Your shop will be as successful as the time you put into it.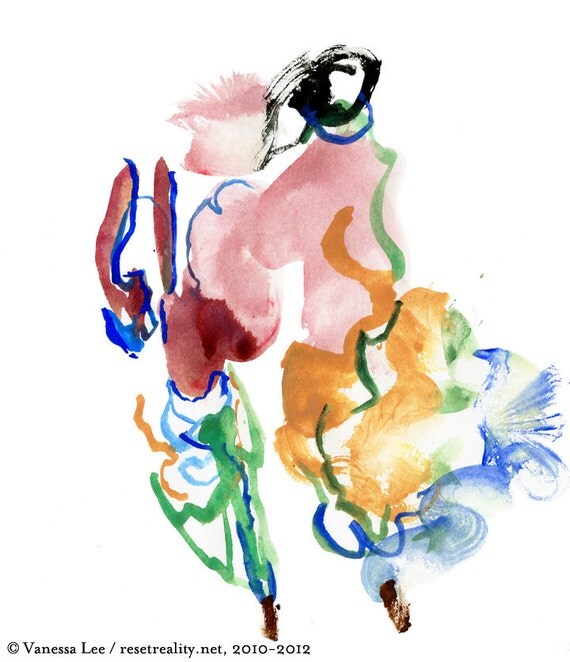 What is your favorite recipe?
I love food, so this question stumped me at first... but, one thing that came to mind? This Rachel Ray recipe for blue cheese pasta... with bacon and spinach, has to be the best thing ever.
www.foodnetwork.com/recipes/rachael-ray/strip-steaks-with-a-side-of-blue...
Thanks for sharing Vanessa! I was only half kidding about the cupcakes.... I would be far too intimidated to go up against you in a cupcake match! I can only imagine the amazingness you would come up with! Challenge? hehe