Have you ever heard the term thirsty Thursday? How about Two buck Tuesday? Wasted Wednesday? Okay.... I know you all have heard of Sunday Funday!
If any of these terms sound familiar to you.... you may have been a college student at one time or another. If these terms are music to your ears, you attended college with me at Chico State!
I graduated from Chico State in 2009. I had some of my best memories there. (I hope this doesn't date me as I would like to have even better memories to come!) Anyways, a student of Chico State learns a lot about life. How to socialize, how to stumble home at night (don't get lost between the aves and the streets! Whatever city planner thought of that was just trying to screw with drunk college kids!) and how to dress in style! Only in a college town will you see girls dressed to the 9s in freezing weather wearing only their "liquid coats."
Halloween was not the only time you wore costumes in college. I participated on a regular basis in a themed party or two. The most fun college parties I have attended had to be highlighter parties. For those of you who don't know.... it's simple logic really (can you expect anything else from a college student!?!?) wear a white t-shirt, bright highlighters and draw away! Black lights are obviously included.
My college days are over, (sad but true) it's not often I find myself in need of a costume. Yet yesterday's Etsy email on Time Warp did just that! Oh the memories of college!
I discovered Neon Nancy yesterday and all the memories came flooding in. How I wish I had discovered her during college! For those of you who still enjoy a good highlighter party or two, enjoy!

Tell us a bit about yourself?
My name is Lyndsey Merryman, born and raised in Columbus Ohio. I attended CCAD for Fashion Design and started out designing couture evening wear but now I'm doing something a little different ☺ I now own a EDM (electronic dance music) inspired clothing line. Festival Fashion full of neon's, lights, glow and called Neon Nancy.
In April we created our etsy shop to accompany our online store
www.neonnancy.com
Is Etsy your full time or part time business?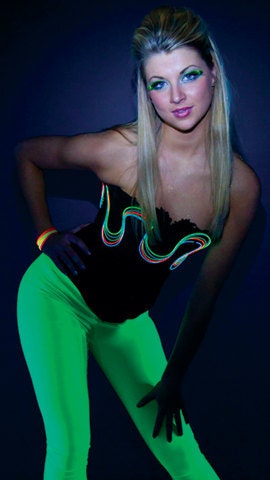 Recently become a Full time job (probably more than full time actually)
I think having a lot of support not only from family and friends but also from my education and experiences really helped to motivate me to create a job that I enjoyed doing.

What other avenues, if any do you share your work with the world?
We have a online store
www.neonnancy.com
with our full product line, we also vend at many music festivals and concerts.
What is your favorite item in your shop and why?
My favorite item in my shop is the Laser Reactive Line, these silkscreen shirts allow you to draw with light , which is a really cool effect, if you have never seen it before check out a video of this on our website. They are also black light reactive perfect for concerts.
Where does your inspiration come from?

The inspiration comes from the creativity of music and festivals like burning man, but also just simply from the EDM culture itself.
What is your favorite part of being a part of the Etsy community? 

The best thing about being part of the etsy community is the interaction with creative people, the treasury lists and circles that introduce you to new art in every form.

When did you know you were an artist/maker?

Ever since I was little, I would paint or use the potter's wheel with my dad. He taught me to love creating at a very young age.
Where would you like to be in ten years?

sitting on a yacht in costa Rica… haha really I would be happy if I'm still creating, working for myself and happy.
Hey, take me with you!
If you could share one tip with a new Etsy seller, what is the most important thing to learn and why?
Brand yourself, and don't do anything half assed.
Simple and to the point. Love it!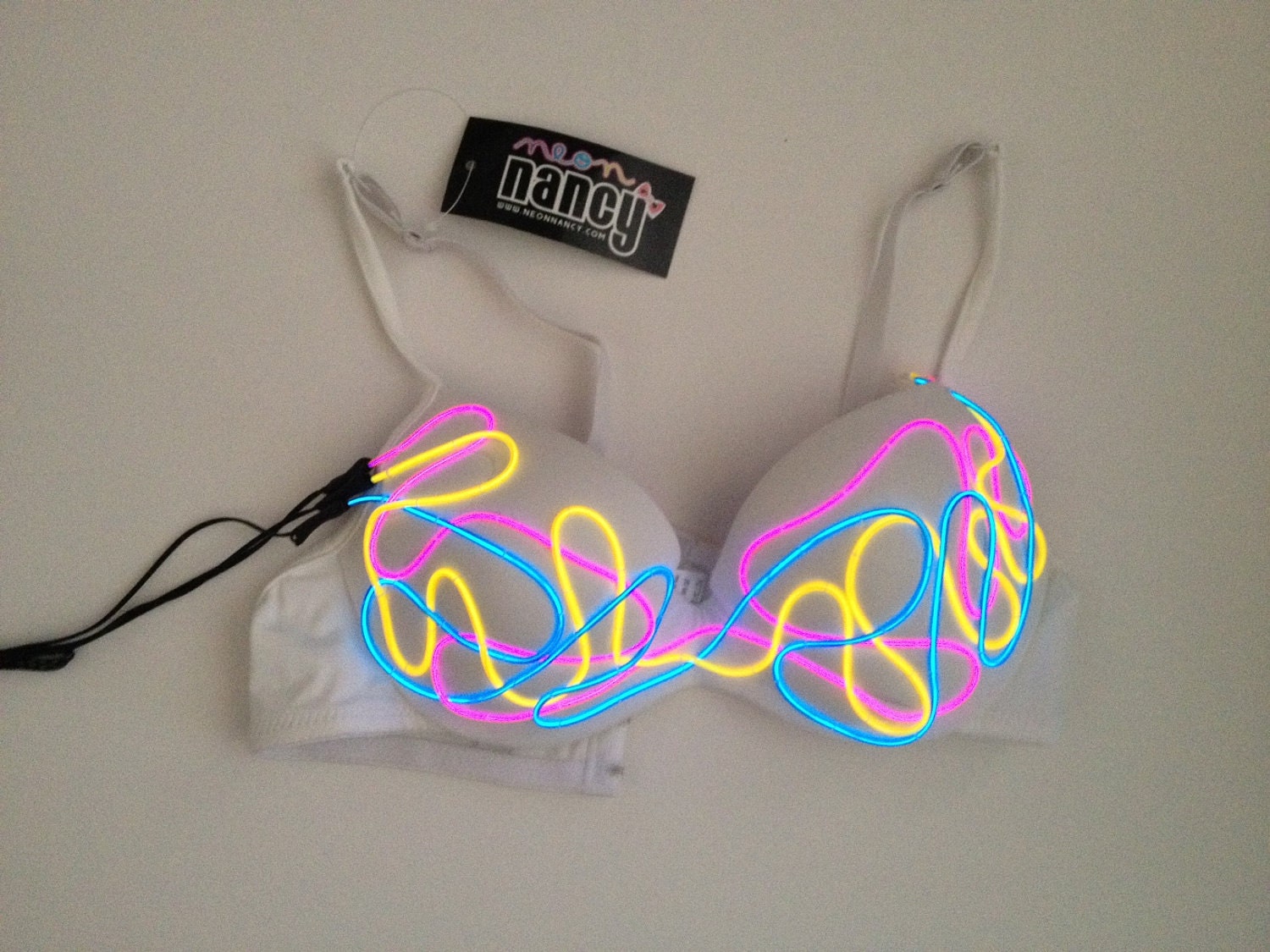 Yes ladies, it is a neon light up bra! woohoo! Wish you had one of these in college don't you?
Make sure to follow Neon Nancy. She really is electric!! (ok, ok, I am done with the lame jokes.... I think)
www.neonnancy.com
www.facebook.com/NeonNancyClothing
twitter.com/#!/NeonNancy1